I did a lot of research when putting together our wedding registry. I knew it was time to upgrade a lot of my cheap kitchenware that I used in college, and for someone who who loves cooking as much as my husband, I knew we needed items that would last. This post includes all the big-ticket items that I recommend for your kitchen as well as all the small little gadgets that just make life easier.
What did I miss? What items do you have in your kitchen that you absolutely love and would recommend? One thing I haven't tried is an air fryer. If you have an air fryer, is it worth the storage space for another appliance in my kitchen? I also didn't include a coffee maker. I currently use a Keurig, but I hate the price of the K-cups (as well as their carbon footprint) so I use the reusable K-cups with coffee grounds but it just doesn't taste right. Any suggestions? Let me know in the comments at the end of this post or over on Instagram.
Disclaimer: This post includes affiliate links but it is not an ad. Each item included in this post are items I have and truly do recommend.
Under $20
1. OXO Good Grips 3-in-1 Avocado Slicer-I honestly didn't know how much I needed this until I had it. I no longer hate cutting avocados. The knife is perfectly sharp enough to cut into the avocado but dull enough that a toddler can't cut themselves. Typically I would slam a steak knife into the pit to remove it but with this you just press and twist (aka you won't stab yourself).
2. 10g Coffee Spoon– I searched high and low for a coffee spoon that matched the rest of my kitchen décor and this one was perfect! For such a small item, it makes ya' girl awfully happy when I make my morning coffee.
3. Fruit/Vegetable Strainer– I hate washing fruits and vegetables and I hate to say that I skip it half the time. This makes it a millions times faster. I literally leave this on my sink 24/7 so it's there whenever I need it. (and I even eat more fruits and veggies because of it).
4. Olive Oil Dispenser Bottles Instead of getting oil all over myself with the screw top bottles, I now just pick up and pour with no mess. They're super easy to refill. I use one for olive oil, vegetable oil, balsamic vinaigrette, and soy sauce. Instead of buying small bottles of oil that can fit in my hand, I now save so much money buy buying the large bottles at Costco and just refilling these as needed.
5. Fiberglass Chopsticks– My husband loves cooking Chinese and Japanese foods. He's even dabbled in a little sushi making. We also eat a lot of Chinese takeout and would rather use these reusable chopsticks than the disposable ones.
6. Pyrex Bakeware– If you don't have the Pyrex baking dishes with the lids, you need it. I love that I can just pop the lid on and put it in the fridge without having to find Tupperware. It makes pot lucks and holidays much less hectic. I can just take my casserole out of the oven, pop the lid on, and throw it in the car! No more flimsy aluminum foil that rips halfway to the destination.
7. Cuisinart Set of 3 Fine Mesh Stainless Steel Strainers-I use these both as a strainer and for sifting flour. The mesh is the perfect size for draining meat (aka no more ground beef falling through the holes of the colander).
8. Stainless Steel Grater– Block cheese tastes a million times better than pre-shredded cheese. This cheese grater is much easier to store than those old box graters.
9. KitchenAid Classic Euro Peeler– When I had my own apartment during college I bought the cheapest possible kitchen tools and I knew that it was time to upgrade when we got married. These KitchenAid tools work so much better than the cheap ones I had and I highly recommend upgrading if you haven't already.
10. KitchenAid Classic Pizza Wheel– Nothing is more annoying than trying to cut a hot pizza with a dull pizza cutter while you're starving. Problem solved.
11. KitchenAid Classic Multifunction Can Opener– For such a simple gadget, durable can openers are hard to come by, but you can't go wrong with the Classis KitchenAid one. "Classic" being the key word because I don't know anyone who likes those newer ones that cut around the edge (mostly because they never seem to work).
12. KitchenAid Classic Ice Cream Scoop-Self explanatory. Ya' girl needs ice cream and she's not gonna bend her spoon in the process.
13. Stainless Steel Colander Set– Have 3 different sized colanders has been great. We don't always need a huge colander so why take up the space in the dishwasher?
14. Trivet Set– These are great for when you take something out of the oven but don't have room to put it on the stove. Our countertops are not granite so we have to use trivets to protect them.
15. Cutting Board Set– These are super thin which makes them easy to store but also thick enough to get the job done. Plus they're less than $10 at target! The largest one is perfect for chopping several different things at dinner, and the smallest one is perfect when you just want to cut up a few strawberries or a lemon for your water. Plus they are dishwasher safe which is always a plus.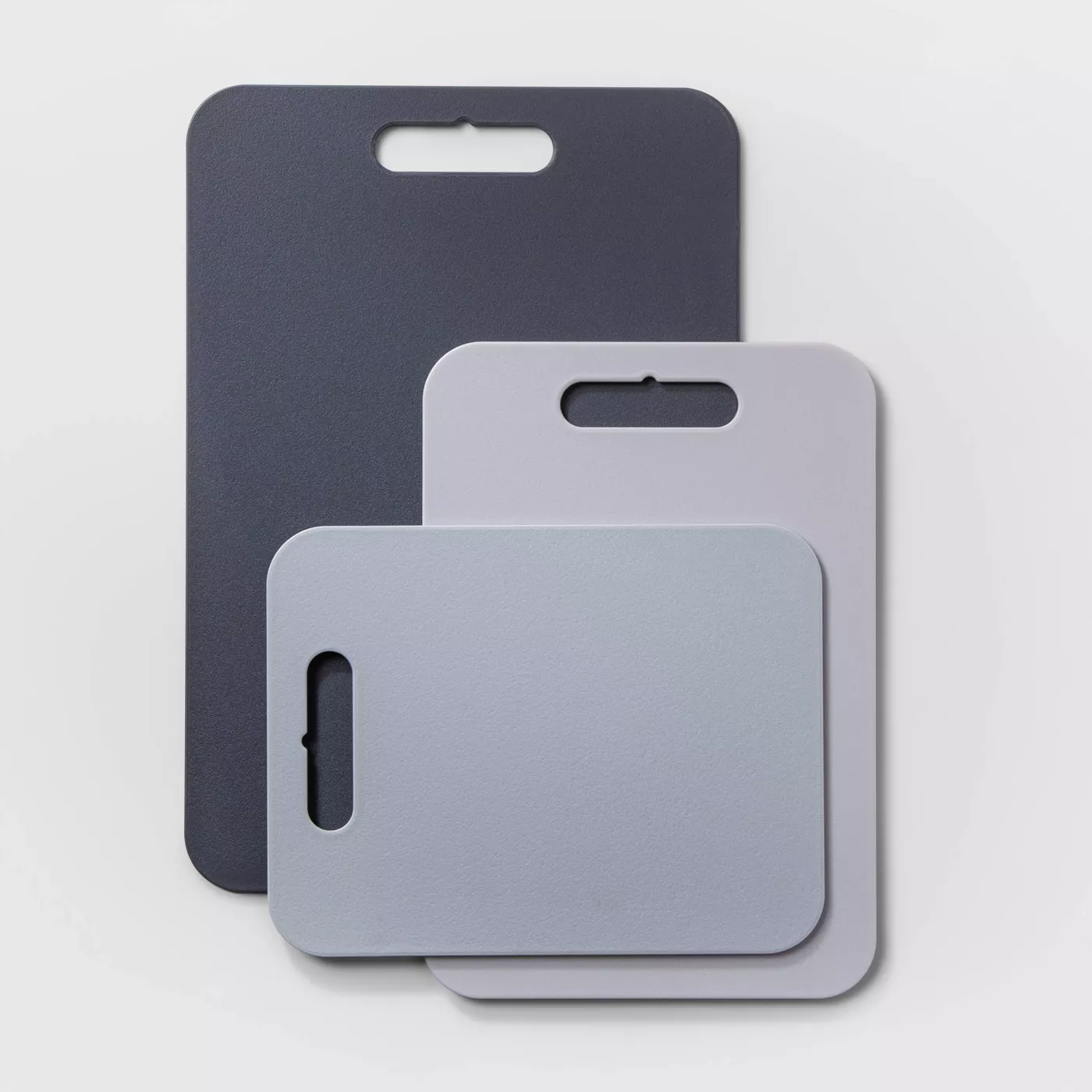 16. Hudson Essentials Stainless Steel Measuring Cups Set– I didn't know that a nice measuring cup set was needed until my aunt gave me these. They are stainless steel so they don't rust and are dishwasher safe. It is a set of 6, not just the typical 4, so it takes the guessing game out when a recipe calls for that 3/4th cup. Each cup also has other measurements on the side so I can also use the 1 cup for 3/4th and 1/2 cup measurements without having to wash 3 measuring cups at the end. It's a small thing that is a great help.
Under $50
17. Silicone Cooking Utensil Set– Hands down the BEST cooking utensils I have ever used. They are not flimsy like most silicone utensils and unlike plastic or metal utensils they don't scratch your pan and food doesn't stick to them as easily. And they're only $27! If you buy anything from this list… let it be this! Everyone needs these.
18. Cuisinart Chef's Classic Nonstick Hard-Anodized 12-Inch Skillet– I did a lot of research on cookware when making our wedding registry. I knew All-Clad was supposed to be the best high quality cookware but it comes with a hefty price tag. When you buy nonstick pans, the nonstick coating will eventually wear off no matter how much money you spend. So it didn't make since to ask for a pan that was hundreds of dollars if the coating would come off just as fast as a cheaper version. You also want to make sure you don't buy a super cheap pan, because those typically loose their coating within the first year. This seemed to be the best middle grade option and so far it is my favorite skillet I have ever had! This size is great for cooking big dinners or making pancakes
19. Cuisinart Chef's Classic Nonstick Hard-Anodized 8-Inch Skillet– Same thing as above, except a smaller version and it doesn't have a lid. I have both and use both. This size is great when you need to fry a couple eggs or sauté a few onions.
20. Hamilton Beach Panini Press– Dave's Killer Bread, Turkey, Avocado, and Pimento Cheese; throw it on the Panini Press for a couple minutes and you've got yourself the best sandwich you'll ever have. It's super quick and easy to use, and I just wipe it don with a wet cloth to clean it. The best part… it's nonstick, so when the cheese falls off and burns, you just wipe it right off!
21. Glass Meal Prep Containers 3 Compartment– I've learned that if I prep my meals in advance, I'm much more likely to eat healthy. I typically cut up some veggies, add some protein and a few carbs and it's ready for me to grab whenever I'm hungry. Chris loves using these when he goes to work and it saves us so much money too. you can throw them in the microwave without worrying about plastic leaking into your food.
22. Pyrex Glass Food Storage Containers (18-Piece Set)– I'm not one of those people who has cut out all plastics and eats 100% all organic food. I do, however, try to make better choices where I can, both for myself and the planet. This was one of those easy choices to make. I have used these for years, and they last so much longer than the plastic ones! I honestly find them easier to store and people always seem to give them back after taking home leftovers.
23. Pyrex Glass Measuring Cup Set– These come in handy when making all those Christmas cookies. Plus, they are microwave and oven safe.
24. Copper Colored Stainless Steel Measuring Cups and Spoons Set– I said above that I really liked the stainless steel measuring cups, but if you are looking for a more aesthetically pleasing matching set, These are great! It says to hand wash them but I throw them in the dishwasher and have no problems.
25. KitchenAid 5-Speed Ultra Power Hand Mixer– This one is much more durable than the cheap ones I've used for years. 100% worth the money. It's great for when you don't want to lug out the big stand mixer.
26. Oster Fondue Pot– This is a super fun at-home date night idea! We haven't tried it with chocolate yet but we did a fun cheese fondue night with each other and had so much fun!
Under $100
27. Oster 12″ x 16″ Titanium Infused Dura Ceramic Electric Skillet– Nothing is more satisfying than your fried potatoes gliding out of the skillet at Christmas Dinner
28. 6 Quart Lodge Enameled Cast Iron Dutch Oven– I don't know why I love this pot so much but I do. It's my go to pot when I'm cooking anything. Honestly, it makes me feel like a cool, hip wife. And that's always a win!
29. Cuisinart 4-Slice Toaster– I put this on our wedding registry thinking a 4 slice toaster was a little overkill, but it was not! I love it much more than any 2-slice toaster. I didn't know how much easier breakfast would be when you don't have to wait your turn with the toaster (first world problems, I know).
30. 6-Qt Instant Pot-I've been using an Instant Pot for several years now. It is not just a fad, I will be keeping this and using it for as long as it lasts (and even then I'll buy another). It makes the most tender pot roast, and the best rice. If you have a larger family, I recommend getting the 8 Qt. The 6Qt is large enough for the two of us plus maybe one night of leftovers.
31. Schott Zwiesel White Wine Glasses-It's no secret that we love the occasional glass of wine. There is something about the thin rim of these glasses that make you feel like you're in an extra fancy restaurant.
32. Rachael Ray Nonstick Bakeware Set– These were a huge upgrade from the cheap, flimsy ones I had been using in college. I love these!
33. Pfaltzgraff Chateau Cream 16-Piece Stoneware Dinnerware Set– I had the hardest time picking out plates for our registry. Most were either way to expensive or just flat out ugly. After hours of scrolling I came across these and I love them! They're durable enough for daily use, and cute enough to use with guests. We got 3 sets, so we can entertain up to twelve guests (or so we can have extras in case they break through the years).
34. J.A. Henckels International Flatware Set– This is a major brand in the silverware market. They're made out of 18/10 stainless steel which is the best quality that you can get. They're durable, so they don't bend when you scoop ice cream and they don't rust when you don't dry them completely. The plain design was important to me because I didn't want something that would look old and dated 10 years from now.
35. Duralex 18-Piece Clear Drinking Glasses- These glasses have an old French farmhouse style and I love it! I also love that the set includes 3 different size glasses: 1 size for drinking water, 1 for juice, and the smallest is the perfect Oreo dipping size (The most important size of all)!
Worth The Investment
36. Cuisinart Multiclad Pro Stainless Steel 12-Piece Cookware Set-I wanted a cookware set that would last us as long as my mom's set has lasted (seriously, they've had it longer than I've been alive and it's still in perfect condition). When looking for a durable set you want to avoid non-stick sets. They will always wear out after a few years. You really only need a couple non-stick skillets, not a whole set. So get a stainless steel set, and then just a couple non-stick pans on the side. This set has some of the best reviews, and the lids are stainless steel, not glass. Stainless steel lids are much more durable (even oven safe) than glass lids and conduct heat better than glass. Hands down one of the best cookware sets on the market.
37. Ninja Mega Kitchen System– We love this set! It is a blender and food processor. It even comes with individual size blender cups and blade. It is probably one of our most used pieces in the kitchen.
38. Magic Mill Food Dehydrator Machine– We love dried mangos and beef jerky but half the time it's either filled with sugar or preservatives. We love making our own and it's so easy with this. We let it go while we're sleeping at night and in the morning we have perfectly dried fruity snacks!
39. HENCKELS J.A International Statement 20-pc Self-Sharpening Block Set– This is something that we use every single day and it was 100% worth the money. Every cook needs a great knife set and this is it! High quality knives are one of the best purchases we've made.
40. Kitchenaid Stand Mixer Artesian Series– I love my KitchenAid. It's one of those items that just make you feel like an adult. It can mix even the thickest cookie dough and I absolutely love it. I love the ones with the glass bowl because you can see when it's mixed or when it needs a little help. Plus, the glass just looks nicer. This link is for Target.com, which typically seems to have the best price and best stock.